Meet Dr. Jenny Geiger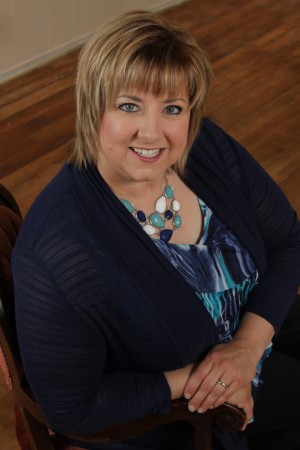 Walk into Dr. Jenny Geiger's Riverside Chiropractic practice in Waterford, and you'll immediately feel "right at home." The office staff is friendly and accommodating and they, along with Dr. Jenny, have one goal – to leave you in a better place when you walk out the door than the place you were in when you walked through the door! The entire office takes the time to get to know you individually, to find out how they can serve you best and to care for your specific needs – the adjustment you receive is just the "icing on the cake"!
A Chiropractic Education
"I wanted to be a health care provider since I was three years old, when I used to care for all of my teddy bears' ills with my doctor kit," Dr. Jenny Geiger reminisces. "So I guess you could say it was my destiny to become a healer."
That was undoubtedly the case, especially since she started to work in a doctor's office at the age of 16, the age at which most teens at least start to think about what they might want do in the future.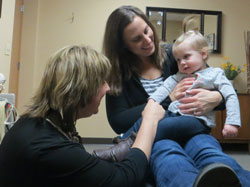 As an undergraduate at the University of Wisconsin, Madison, Dr. Jenny worked in human oncology because she wanted to attend medical school and become a pediatric oncologist. While still attending college, Dr. Jenny began to experience severe migraine headaches. Her doctor prescribed migraine medication, which she took until one of her friends suggested that she try chiropractic care.
Dr. Jenny had no knowledge about chiropractic care and had no idea what a chiropractor could do to help her migraines, so she decided to find out what chiropractic care was all about. And…that's when she realized that chiropractic was the profession in which she was born to serve. Chiropractic dramatically changed her life; with the elimination of her migraines, she no longer had to lie down in dark rooms in silence until they went away, she could now live her life free from pain.
After experiencing the miracle of chiropractic care firsthand, Dr. Jenny decided to volunteer in not one, but two chiropractic offices to learn all that she could about the profession prior to enrolling in Chiropractic College.
Following the completion of her undergraduate degree, Dr. Jenny attended Northwestern College of Chiropractic in Minnesota. She opened her practice in Waterford in 2000 because she wanted to be in Racine County and Waterford offered the "small town," wonderful community atmosphere she desired.
Care For The Whole Family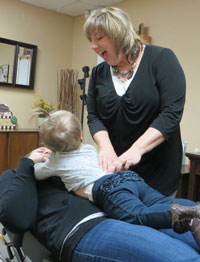 Dr. Jenny offers chiropractic care for the entire family and has completed a three-year program which earned her the designation of Diplomate in Clinical Chiropractic Pediatrics (DICCP). She is one of only 200 chiropractors with this designation, which provided her with the most current information and skills to care for children and pregnant mothers. She strives to help all of her patients get well and stay well.
Working with children provides Dr. Jenny with the opportunity to influence optimal health at its earliest stages. Children respond very quickly to chiropractic care because any spinal misalignments and subsequent nerve interference that they suffer from is resolved quickly. Dr. Jenny also works with special needs patients who have used prescribed drugs in the past that treated only symptoms, not causes.
Dr. Jenny certainly lives the lifestyle she advises her patients to live. She receives regular adjustments, she exercises and she eats foods that are healthy and nutritious. With a certification in Nutritional Counseling, she is able to guide patients toward better food choices and away from those that cause chemical stress in the body, negatively influencing health.
"I want patients to know that my primary purpose is to help them to improve the quality of their lives, in every facet of their lives. I teach them how to be the best 'you that you can be' and help them to understand how the choices they make everyday affect their health, states Dr. Jenny. "I find my joy in seeing people get well, helping people heal from the inside out, dramatically changing the quality of their lives."
Dr. Jenny is licensed in the State of Wisconsin and is a member of the International Chiropractic Association (ICA) Pediatric Council and the Wisconsin Chiropractic Association. She also serves her local community as a member of the Waterford Area Chamber of Commerce, in which she serves as an Ambassador liaison between the Chamber and member and non-member local businesses.
Dr. Jenny wants to educate people about the benefits of chiropractic care and encourages those in Waterford and surrounding areas to contact her for more information about the ways in which chiropractic care can help people to live a healthier, happier lifestyle – free from pain and disease.